Group Functions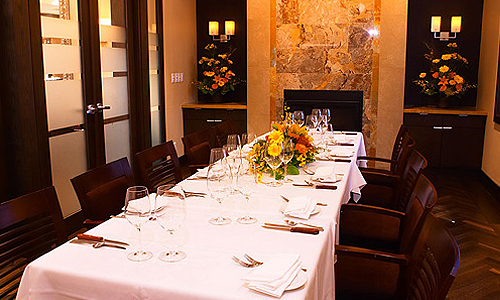 We are pleased to offer a private setting for about 24 guests adjacent to our wine cellar and overlooking historic York St. buildings such as the Royal York Hotel and Union Station.
Bardi's boardroom, with a floor to ceiling marble fireplace presents a perfect setting for corporate and private functions for up to 16.

Please scroll down to view our group menus

Downstairs: 60
Upstairs: 50

2nd Floor Boardroom: 16
2nd Floor Semi-private dining: 30
---
Fixed Price Group Dinner
FIXED PRICE DINNER MENU
GROUPS OF 20 OR MORE GUESTS. $105.00 per person (Excluding tax and gratuities)
Cheese and Garlic Bread
Mixed Organic Greens with Choice of Dressing
Or
Caesar Salad
10 oz New York Sirloin Baked Potato, French Fries or Rice
Or
Jail Island Grilled Fresh Atlantic Salmon Served with Sautéed Garlic Spinach and vegetable of the day
Or
Grilled Chicken Breast Vegetable of the day
Bardis Chocolate Fantasy Cake Layered Dark and White Mousse on Raspberry Coulis
New York Style Cheesecake
Gelato Fresco Raspberry Ice or Devils Chocolate Ice cream
Coffee Tea
Espresso or Cappuccino
Download PDF
Click on the above link to view or download our menu in a PDF format.
In order to view PDF Menus you need to download and install the FREE Adobe Acrobat Reader.
* Menu items and prices are subject to change without notice and are displayed for informational purposes only.